We are the makers of PDF Annotator, the world's first dedicated solution for PDF commenting and markup – since 2004!

Annotate any PDF
exactly the way you want to
Add notes & annotations to any PDF document – comments, corrections, signatures, highlighting, even photos, designs and drawings.
PDF Annotator requires Microsoft® Windows®
You seem to be visiting us from a computer not running Microsoft® Windows®. Unfortunately, you will not be able to install and run PDF Annotator on this computer.
But, would you like us to send you a link to this download by email, so you can download PDF Annotator on a different computer (running Windows)?
Try now
Buy now
4.48
(
1171
user ratings, November 2018)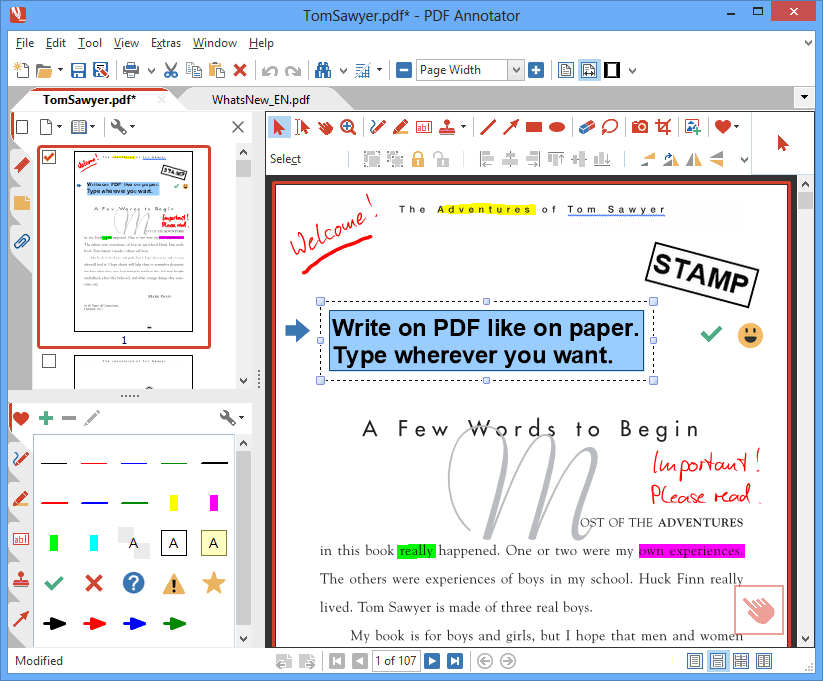 Click to enlarge screen shots
How does it work?
Add notes & annotations to any PDF document:
Comments, corrections, signatures, highlighting, even photos and drawings.
Save annotations in the original file.
Share them with coworkers, email them to partners or back to the authors – with no special software needed to view the marked up document.
Type comments on top of PDF content.
Paste in images, use a stylus or drawing tablet if you have them.
Restore to the original document at any time.
Remove or hide all markup with just one click.
Insert blank pages for more space.
Combine documents, copy, re-order or remove pages.
240,000+ PDF Annotator Lovers!
Today, our software is being used by more than 240,000 happy customers in 89 countries.
Here's what they say about PDF Annotator:
I have been an avid fan of PDF annotator for six years (I'm in science research). So I just wanted to email you and say THANK YOU! Thanks for creating such a great program and for making software that is so user friendly. As a consumer, I really appreciate it and you are definitely the exception in the field.
Anne Cherry
Harvard University
Cambridge, MA
I am in love with it and use it on a daily basis.
It's a killer-app on a TabletPC.
Alexei Gilchrist
Brisbane, Australia
The real power and "Ah-ha" moment is when I pull up PDF Annotator in a video conference and my PDF becomes a virtual whiteboard. I write notes, edit drawings, solve problems, fill in blanks, in the group environment as if we are in a meeting room together. The whiteboard in the palm of my hand is my new most powerful application. I can live without most of the apps on my tablet if I have to. I can't live without PDF Annotator.
Rick Seger
President, N-trig Inc.
Austin, TX
Read more testimonials…
More on: www.PDFAnnotator.com

Get this must-have PDF tool for your PC!
Either install our 30-day trial today, or make use of our 60-day money back guarantee. We know that you will like it.
Products
Download
Buy
Tutorial
Comparison
How to Make PDF Annotation with PDF Annotator Free
The Occasions that Need to Annotate PDF Files
PDF document is frequently used in our daily work for its advanced feature on preserving the file formatting and layout. It is especially good for sharing the files. We all know that PDF is a kind of file format that can't be edited, but there are times that we have to make annotation on PDF files for some purposes. The occasions that require annotating PDF like: 1. (for daily work) when reading a PDF file, one wants to make comments, insert notes, highlight separate words or leave annotation on the PDF document; 2. (for study) when receiving some PDF files on course, students need to annotate or highlight some areas of the PDF for studying; 3. (for business) when exchanging ideas on a group project in PDF document, in order to express opinions on some content, people should make annotation on the PDF file to point them out.
Methods to Annotate PDF with Free PDF Annotators
Annotating PDF offers users great flexibility to make comments on PDF and highlight PDF file. Perhaps, you occasionally use PDF files or maybe have a PDF reader for PC without many or any annotating features. No matter what reason you have for needing a quick way to annotate PDF files, here we provide you some effective methods for annotating PDF with free PDF annotators or tools.
PDF Annotator – Adobe Reader X
Adobe Reader X is a powerful PDF software solution that enables you to view, print and comment on PDF documents. It can be used as PDF annotator for annotating PDF files.
The application allows you to make annotation, write down comments and feedback using a separate frame in the right side of the window, while the reading space is not affected at all. To make annotations in the PDF file, you should firstly open the PDF Adobe Reader X, then add the PDF file that you want to make annotation/comment, click on "Comment". If this option is not available in your Adobe Reader, then it is possible that your Adobe Acrobat version than X or the PDF has not been prepared properly. By taking this action, you can open a task pane (see the image on the right), and, below that, a list of all Comments in the text.
PDF Annotator – Web-based PDF Tools
Few web-based PDF tools actually offer annotation features, such as Foxit Reader and PDF X-change Viewer.
Foxit Reader 2.0 allows you to draw graphics, highlight text, type text and make notes on a PDF document and then print out or save the annotated document. Foxit Reader has made this particular feature, together with most other basic annotating tools, available for free. If you're looking for an alternative, Foxit Reader is definitely a good choice.
PDF X-change Viewer enables you to annotate PDF documents. It allows a variety of operations, including highlighting, crossing or underlining text; drawing shapes; stamping and filling out PDF forms with a built-in typewriter; insert, edit or rename bookmarks. Unfortunately some advanced features are available only to the paid-for Pro version.
PDF Annotator – PDFescape
PDFescape is a free online PDF reader, editor, form filler and form designer with the basic features that most users welcome. There is no download nor installation when using this service. You don't need an account to edit a PDF and can load PDF from your computer or from an URL. The number of PDF-annotation tools is pretty impressive as you can whiteout (hide parts of your PDF file), and insert links, insert arrows, images, sticky notes, checkmarks and even form fields of several types (text, checkbox, listbox, etc).
Make Annotation on PDF Files – You can Do it!
With PDF annotators, you can make comments or annotations, insert notes, add arrows or highlight specific content on any PDF easily and freely. No matter you are student or company employee, no matter you are aiming at study or dealing with business, if only you need to make annotation on PDF, you should find the PDF annotator for help. And in fact, annotating PDF is not as difficult as you imagined, by taking any method introduced above, you can finish the task successfully.
Hot Products
How-tos

Convert Kindle Books to PDF

Share Kindle Books with Friends

Read Kobo Books on Kindle

Read Kindle Books on PC

Free PDF to TXT Converter

How to Convert EPUB to AZW3

Read PDF in iBooks on iPad

Break a PDF into Parts

Extract Odd/Even Pages from PDF

Split Single PDF to Multiple Files

Extract Images from PDF Files

Read PDF on iPad, iPhone, etc.

Read PDF on Amazon Kindle

Convert PDF to Android Phones

Read PDF or EPUB on Kobo

View PDF on iPad iBooks
Hot Topics

Best EPUB Reader Apps for Andriod

Best PDF to Word Converters

Top 4 PDF Converters Review

Best 6 eBook Readers / Devices

eBook Apps for Android or iPad

4 Ways to Convert PDF to JPG

Convert PDF to JPG For Free

Free PDF to Text Converter Review

Convert PDF to EPub, Free or Paid?

Reasons for Converting PDF to JPG

Best 4 PDF to HTML Freeware

2018 Best PDF Merger Review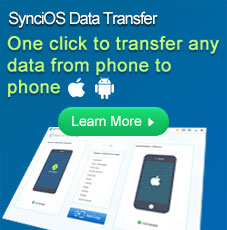 Home | Sitemap | Support | Free PDF Converter | PDF Converter Professional | Free PDF Merger | Mac PDF Converter | PDF to Word | Any eBook Converter | PDFMate eBook Converter Pro | Link to Us | DRM Media Converter | iTunes Video Converter | Free Android Manager | Spotify Music Converter | More
Copyright © 2011-2018 Anvsoft Inc., All Rights Reserved
GET IT DONE
WITH XODO
With Xodo, you can edit, annotate, sign, and share PDFs on desktop, mobile, and web. Xodo makes working with PDFs quick and easy, so you can get things done.
Use Xodo on any device FREE!
SIGN DOCUMENTS ON THE FLY & SAVE YOUR SIGNATURE TO USE LATER
Gone are the days of printing and faxing. Sign contracts, expense reports, cover letters, or any other document on your smartphone or tablet, using just your finger or stylus.
Sign it then and there. Instead of fumbling for a pen or wasting printer ink, use just your finger to sign any document.
Save your signature to sign future documents instantly with just a tap of your finger or a click of the mouse. Then save and share with whoever needs it. What used to take back and forth emails can now be done in seconds.
FILL FORMS WITH A TOUCH OF YOUR FINGER!
Xodo takes the stress out of filling forms. Simply complete forms on the go from your smartphone or tablet by typing onscreen for fill-in fields and tapping to select checkboxes and other options.
Save time and energy. Fill in forms from your smartphone or tablet, then save and share with whoever needs to see it.
Once you're done, you can quickly save and share your form with whoever needs to see it, then move on. It's simple, fast, and convenient.
WANT MORE OPTIONS? ANNOTATE YOUR PDF
s

WITH XODO
Sometimes you need more than words to express your ideas. Xodo's range of tools enables you to annotate your documents, including adding sticky notes;
highlighting, underlining, and striking out passages; inserting shapes; and drawing freehand. Once you've created your annotation, you can always go back to change its color, size, thickness, and opacity
Like working on paper but better. With Xodo you're free to leave comments, highlight, draw freehand, and more – right on your PDF.
With Xodo's Annotations view, you can quickly access a summary list of all the annotations in a document. Tapping on one brings you to the annotation itself, so you can see the context and go from there.
WORK TOGETHER WITHOUT GETTING TOGETHER – NO SIGN-UPS REQUIRED
Why keep your work to yourself? With Xodo, you can transform any PDF into a virtual meeting room. Best of all, you can connect with anyone with an email address and a web browser, without wasting time
creating accounts or downloading files.
With Xodo, you can collaborate in real time with anyone, anywhere, hassle-free. Working together has never been easier.
Xodo's chat feature lets you and your
collaborators work together online in real time, eliminating back-and-forth emails or finding a time to meet. Collaborators can join from any device and enjoy the ability to view, highlight, annotate, and comment – everything you love about Xodo.
SYNCED, UP-TO-DATE DOCUMENTS AVAILABLE WHEN YOU NEED THEM
Stay on top of things. You can directly
access PDF documents on your Dropbox and
Google Drive from Xodo, and save them to
automatically sync them back to the cloud.
Work directly with PDF documents on your Dropbox and Google Drive
with Xodo. Just save to sync your changes to the cloud.
With Xodo, it's easy to always have the
latest version of your documents. All your
comments, annotations, and edits are
available when and where you need them.

Previous

Next
PATRICIA
Business Consultant

"Before I started using Xodo, my clients and I emailed PDFs back and forth. It became frustrating – downloading multiple versions of the same document and making sure I had the latest version. Now all of our shared PDFs are in one place, and we can hold virtual meetings right on a document, or leave comments for each other to read later."
–Patricia, Business Consultant

"Xodo is a great addition to my classroom. Students use it to take notes, and I can add comments right on their papers."
–Amy, Teacher

"I'm constantly in motion. I bring clients to open houses,
manage my own listings, and negotiate agreements. With Xodo, I can track contract changes and clients can sign contracts right on my tablet, saving valuable time."
–Carolyn, Realtor
"I keep key documents on the cloud for backup and universal access. Now I read them from Xodo without a download step."
–Steven, IT Professional

"My job often needs me to fill forms, and Xodo is a lifesaver. I just fill, save, and send forms electronically."
–Robert, Government Worker
"At work I need to quickly open and work with complex drawings. I depend on Xodo – it's fast without losing any detail."
–Grant, Building Engineer

Introducing the NEW XODO WEB APP
Merge Files, Organize Pages and More!
Good news! With our latest release, the Xodo web app is now better than ever. In addition to all the features you already love, you'll enjoy a refreshed interface and exciting new features.
With the Xodo web app, you can now merge multiple PDFs into one, which is perfect for when you need to compile resources into one package to send to your colleagues. And now you can merge PDFs from your computer and Google Drive.
The new Xodo web app provides more flexibility than ever before. You can now insert, delete, reorder, and even rotate pages to manipulate your PDF to fit your needs.
READ MORE…
Take a look to see what Xodo can do for you:
Merge PDFs (NEW!)
Organize pages: insert, delete, reorder, and rotate pages (NEW!)
Access PDFs on Google Drive
Online collaboration
Secure: your files never leave your computer
Print directly from your browser
Multiple view modes and flexible zoom
More annotation options
Use without signing in (NEW!)