It's where you
go to play!
Newberry Caldera at Newberry National Volcanic Monument
Visit a Volcano the Size of Rhode Island
Learn More
Forest Service Rd 21, La Pine, OR Map It
541.383.5300
There's a volcano the size of Rhode Island just south of Bend, and it's tough to believe a lot of folks miss it. In November of 1990, Newberry National Volcanic Monument was created within the boundaries of Deschutes National Forest. Exploring the Newberry Crater (which is technically a caldera) is a wonderful way to learn about and see firsthand the violent, geological history that helped make Central Oregon the beautiful place it is. Right off Highway 97 just before you reach Lava Lands, you see Lave Butte, the source of the lava flows and jagged volcanic glass you see. Visiting Lava Lands Visitors Center is a perfect way to get oriented before you head to Newberry Crater. You can also hit Newberry Welcome Station for details and a map. While many visitors (and locals) miss out on this area, you can stop at Paulina Falls, an 80 foot double waterfall a short walk from the car. From there, you can take your pick of Paulina Lake (complete with a lodge, restaurant and watercraft rental) or East Lake for wading, splashing and views. And speaking of views, don't miss out on the amazing view from the top if you drive all the way up. For extra points and memories, commit to a full, guided day and you check out the Paulina Plunge, a combination of mountain biking and waterfall adventuring.
HIKING
Distance: Varies
Difficulty: Easy/Moderate
The Peter Skene Ogden Trail (named for Paulina Lakes 1826 discoverer) parallels the creek as it ascends 8.5 mile to Paulina Lodge at  Newberry Crater . The trail can be hiked, biked, or horsed the whole length, but a 3 mile stretch in the middle starting at McKay Camp is a spectacular shorter hike. Newberry National Monument has too many splendors to list here. Be sure to pick up a national park brochure at the visitor center or at the entrance to the monument.
TWO FULL DAYS OF FUN AT THE NEWBERRY VOLCANIC NATIONAL MONUMENT
There's a volcano the size of Rhode Island just south of Bend, and it's tough to believe a lot of folks miss it.
No trip to Bend, Oregon is complete without exploring the Newberry Crater. The area is teeming with ancient lava flows, jagged volcanic glass, rivers, lakes, caves, hot springs, waterfalls, and forests — and they're all there waiting for you to explore them. The Newberry Crater area offers fun things to do in both summer and winter .
Want a sample itinerary? Here's one way to tackle the Newberry National Volcanic Monument in two days:
DAY ONE:
8:45 a.m: Leave your hotel & grab breakfast to go. Swing by Sparrow Bakery on your way out of town. Travelers with a sweet tooth will dig their famous ocean rolls, or snag a bacon breakfast sandwich on a hand-rolled croissant.
9:15 a.m.: Arrive at the Lava Lands Visitor Center. Stop at the gate to flash your Northwest Forest Pass for admission, or buy a one-day or three-day Monument Pass for admittance. A shuttle bus will transport you to the top of Lava Butte, where you'll take in sweeping views of the surrounding volcanic landscape. Round trip costs only $2.00 per person (exact change please). Shuttle runs every 20 minutes.
Snap a few photos and burn off some energy with the ¼ mile hike around the rim of the caldera. Back at the bottom, stop by the Visitor Center to check out the interpretive exhibits, a short film, and a giant map showing all the areas you'll visit that day.
10 a.m.: Explore Lava River Cave. Rent a propane lantern at the entrance for $5, or bring your own headlamps and flashlights. Hoof it down 100 stairs into the darkness of the cave, then hike a mile each way exploring this massive lava tube that passes right under the highway. Be sure to pack a sweatshirt, since it's a chilly 45-degrees in the cave. For a chance to explore some of Central Oregon's other caves with a trained naturalist guide, do a Cave Tour with the folks from Wanderlust Tours .
11 a.m.: Drive to Paulina Falls. Emerge from the cave and drive 12.5  miles to Paulina Lake Road. Turn left there, and head 12.5 miles to the Newberry Welcome Station. This is a great spot to grab a map and ask any questions before continuing on to Paulina Falls. Admire this 80-foot waterfall from above and below, checking out the dramatic volcanic cliffs that surround it. Did you know the water is spilling over lava flow deposits created from sheets of hot ash and pumice that formed during eruptions more than 75,000 years ago?
Noon: Lunch at Paulina Lake Lodge. From Paulina Falls, drive just a couple miles to Paulina Lake. Stop at the lodge for a scrumptious lunch with breathtaking views of the lake. If you have little ones in tow, there's a tasty kids' menu, too!
1 p.m: Explore the lakes, drive the peak, or hike to the hot springs — take your pick!  If you can't get enough of the water, rent a kayak , canoe , standup paddleboard , or boat at Paulina Lake Lodge and set out to explore the crystal-clear water and towering mountain views. You can also visit nearby East Lake where there's plenty of fishing , paddling, and sailing to be had.
If you're in the mood for a drive, hop back in the car and ascend the 7,984-foot Newberry Volcano. From the top of Paulina Peak, you'll get a 360-degree view of the surrounding landscape. It's open late-June through early October when the snow is clear.
If you're up for hiking that's a bit off the beaten path, start at the Little Crater Campground on the edge of Paulina Lake. From the day-use area, start hiking counter-clockwise around the lake. Roughly two miles in, you'll spot an array of rustic hot springs bubbling along the lake shore. Most are fringed with logs, and it's handy to have a bucket or shovel to scoop gravel from the shallow pools.
3:45: The Big Obsidian Flow. End your day with a visit to this expanse of more than 170-million cubic yards of glassy obsidian and pumice. A one-mile loop interpretive trail covers a scenic corner of it and offers stunning views of Hidden Lake.
5:30 p.m. Lava Cast Forest (optional). If you've still got energy and daylight to burn, head back toward Hwy 97 as though you're driving back to Bend. Instead, take a nine-mile detour down an unimproved road to the Lava Cast Forest. It's a 7,000-year-old basalt lava flow that enveloped a mature forest and took the shape of trees while it cooled. No visit to Bend is complete without seeing a few Oregon volcanoes and craters  during your stay.
DAY TWO:
The Paulina Plunge . This full day of hiking, biking, splashing, and sliding is one of the most memorable outings you'll experience during your Bend vacation. You'll be transported from the Paulina Plunge headquarters to the starting point of the journey, where tour guides will set you up with bikes and helmets. From there, spend an entire fun-filled day mountain biking along scenic trails to six spectacular waterfalls where you'll swim, splash, explore, and slide down natural rock waterslides in the river. Most of the biking is downhill, and this outing is great for families. Visit the Paulina Plunge website for more details.
Need more information about the Newberry National Volcanic Monument? This US Forest Service page should help.
Explore What's Near
Newberry Caldera at Newberry National Volcanic Monument
I'm Looking For:
Aerial Tours & Scenic Flights
Bend Womens March Listings
Canoe, Kayak & River Activities
Horseback Riding & Equestrian
Roller Skating & Skate Parks
Three Sisters Scenic Bikeway
Art, Museums, and History:
Performing Arts & Theater
Tin Pan Alley Art Collection
Performance Groups & Organizations
Bend Women's March Events
Concerts & Music Festivals
Vegan, Vegetarian, Gluten Free
Hospitals & Medical Centers
Pet Sitting & Pet Resorts
Photographers & Videographers
Children's Clothing & Toys
Thrift and Consignment Stores
Weddings and Conferences:
Conference & Event Spaces
Wedding Gowns & Formal Wear
Vacation Rentals & Airbnb
Is this your listing? Click here to update it.
Things To Do Top Featured Newberry Crater
Newberry Crater
August 8, 2014 (Updated August 28, 2014)
When the mood to move strikes my family, there's no better way to celebrate summer than packing up and moving out toward our annual camping trip at the Newberry National Volcanic Monument near Bend. It's a chance to leave busy U.S. 97 behind and follow the lonesome trail high into the alpine reaches of the spectacular Newberry Caldera and my favorite high lakes called East and Paulina.
Newberry National Volcanic Monument was established in 1990 and it includes over 50,000 acres of lakes, lava flows and spectacular geologic features. The monument's summit is 7,985-foot Paulina Peak, which offers showcase views of the Oregon Cascades and the high desert. Every direction you look is a recreation heaven on earth offering snow-capped peaks, deep green forests, inviting pockets of ponds and grassy meadows.
Advertisements
Retired geologist Bob Jensen noted, "Probably the most spectacular views you can find are atop Paulina Peak . On a clear day you can see from Washington's M.t Adams to California's Mt. Shasta – and to the east you can see all the way to distant Steens Mountain."
Named for Dr. John S. Newberry, a scientist and early explorer with the Pacific Railroad Survey, the caldera (the center of the volcano) holds two lakes, Paulina Lake and East Lake.
It's hard to believe as you drive through this mountainous area that you are within the caldera of a 500-square-mile volcano that remains very active seismically and geothermally to this day. Geologists believe the park sits over a shallow magma body only two to five kilometers deep.
Come down closer to ground at places like nearby Lava Butte and discover that all of this region's geologic history is a part of the remarkable Newberry National Volcanic Monument.
Geologist Bob Jensen said you quickly learn that so much beauty was built upon devastating natural disasters that date back 75,000 years ago. "A key place to start is probably the Lava Lands Visitor Center to get a handle on the big story of what has happened in Central Oregon as recently as a thousand years ago. There is also the great viewpoint atop Lava Butte that overlooks the area. Then the Lave River Cave is nearby and easy to explore in summer. It's the longest lave tube in the state."
If you go caving, be prepared with a lantern and dress for warmth – inside Lava River Cave it's a constant 42 degrees.
Scott McBride, the National Monument's Manager, said that visitors to this national treasure can spend weeks exploring the monument's 50,000 acres and never see the same thing twice. "Visitors who take the time to turn off Hwy 97 are completely surprised by what they almost missed – and then – completely excited that they didn't. It is the easy access to volcanic features, the types of recreation that you can do in the center of a caldera which is essentially the heart of a massive volcano spreading out the size of Rhode Island."
The caldera also includes the Big Obsidian Flow , deposited 1,300 years ago by an eruption. One of the most intriguing parts of the crater is the obsidian flow, over a mile in length and 200 feet deep, with huge chunks of obsidian scattered about like so many forgotten children's toys. The mile-long stroll puts you in the heart of gray pumice, brick-red lava, and ebony obsidian, and the contrasting shapes and colors rest side by side.
Bart Wills, USFS Geologist, said that Native Americans discovered the glass-like qualities of the obsidian and hand-tooled it into razor-sharp tools for hunting and cleaning game. "It's sharp like glass and it's very brittle; it holds a keen edge but it breaks very easily. So, once you've obsidian as a tool – say, an arrow, the tip may break and they wouldn't be able to use it again. But as you can see, there was no shortage of material."
Today the fractured, jagged ramparts of the volcano are topped by the pinnacle called Paulina Peak, but a glance down to East Lake's forested shore reminds me of my true interest in this site, and it won't take long for you to discover that camping has long been a tradition here.
The first East Lake Resort was built in 1915, according to resort co-owner, Bruce Bronson. He told me with a chuckle, "A lot of people walk in the front door and ask, 'Where is the caldera? I came here to see the Newberry Caldera.'…Well, you're in it."
Bronson added that East Lake has long been a drawing card for the angling crowd, especially at daybreak, when trout and kokanee are on the bite. "Families have been coming here since the very beginning when it took much longer to get here, but then they stayed much longer too. Many came up as children, they'll come up with pictures of themselves in front of these same cabins when they were 5 or 6 years old and say, 'Boy, it hasn't changed much. Just like I remember."
East Lake Resort's cabins offer all the comforts of home – just like the cozy café where no one ever walks away hungry. Rental boats put you on the water where fishermen troll or cast flies that entice big fish to bite. Nearby, two USFS campgrounds called East Lake and Cinder Hill  offer more than 150 campsites for tent or trailer with plenty of lakeshore elbow room that will find you coming back to Newberry again and again.
"People have a super outdoor experience in an atmosphere so clean and clear at 6,400 feet in elevation that the clouds seem but an arm's length away," added Bronson. "Laid back is a great way to describe our place. It's for people who really want to get away from the hustle and bustle of their city lives. They come up here and – within a day or two – all that they thought was so important seems to disappear."
That's certainly true! The stress melts away. There is no water skiing or jet skiing on either Paulina or East Lakes, so life moves here at a slower pace. "It's the camping, the hiking, fishing and horseback riding," noted Scott McBride. "Almost anything you can think of to do recreationally, we have it here in this national monument and that is extraordinary."
About The
Author

Grant McOmie
Grant McOmie is a Pacific Northwest broadcast journalist, teacher and author who writes and produces stories and special programs about the people, places, outdoor activities and environmental issues of the Pacific Northwest. A fifth generation Oregon native, Grant's roots run deepest in the central Oregon region near Prineville and Redmond where his family continues to live.
Ready to hit the road? Bring our travel magazine along.
Lets keep in touch. We have a lot of ideas for you.

Home |
Parks |
Hotels |
Plants
Hiking |
Itineraries |
Landscapes |
Maps
Site Map |
Photography |
Whats New? |
More…




OREGON
INDEX |
MAPS |
INTRODUCTION |
PARKS |
PHOTOS |
HOTELS
×
Oregon Pages
INDEX
MAPS
INTRODUCTION
PARKS
PHOTOS
HOTELS
All Sections
Arizona
California
Colorado
Idaho
Nevada
New Mexico
Oregon
Texas
Utah
Wyoming
Slot Canyons
Newberry National Volcanic Monument
Oregon > Newberry National Volcanic Monument
Tree amongst lava blocks – along the Big Obsidian Flow Trail
Oregon has many volcanic landscapes, found in scattered locations in the desert southeast and all along the Cascade Range; most famous is Crater Lake National Park , and there are other accessible areas around McKenzie Pass along Hwy 242, and at Brown Mountain, west of Klamath Falls. The easiest reached location is either side of US 97, south of Bend; an arc of lava flows, cinder cones, lava caves and other features stretching over 30 miles, originating from the caldera of Newberry Volcano, which like Mount Mazama at Crater Lake exploded with huge force, 75,000 years ago, leaving a ring of low peaks around a large crater. Also like Mount Mazama the caldera is flooded, but here only partially, forming two lakes (Paulina and East), separated by a tree-covered pumice cone. The surrounding cliffs are much less prominent than at Crater Lake, yet the surroundings have a greater variety of geological features, and provide more recreational opportunities. Although the majority of the caldera is very old, it does contain the most recent lava in Oregon, the Big Obsidian Flow, which was produced only around 1,300 years ago. Partly because of this relatively recent eruption, Newberry Volcano is considered potentially active, though current signs of subterranean heat are limited to a few warm springs around and beneath the lakes.
Locations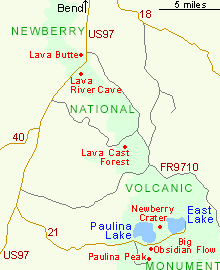 Map of Newberry National Volcanic Monument
Map of the Paulina Lake area
Newberry Caldera and its associated lava flows are protected by the 50,000 acre Newberry National Volcanic Monument, created quite recently (1990) and managed by the US Forest Service rather than the National Park Service. The monument is almost entirely surrounded by the Deschutes National Forest, and contains generally forested land, ranging in elevation from 3,800 feet at the Deschutes River to 7,985 feet at the summit of Paulina Peak, the highest point along the caldera rim. All is covered by snow for about half the year yet some sites are still accessible, and the place is very popular in summer, especially the area around the two lakes, even if the majority of visitors are here for camping, boating and fishing, rather than hiking or geology. Beside the lakes are half a dozen campgrounds, a resort and a lodge, plus 55 miles of trails. The other easily reached section of the national monument is along US 97 near Bend; here are found the longest lava tube in Oregon (Lava River Cave), open to self-guided exploration, and Lava Butte, a symmetric cinder cone surrounded by fresh lava fields. This location also has a campsite, and the Lava Lands Visitor Center, the main information facility in the monument.
Backcountry
Unpaved roads cross other parts of Newberry National Volcanic Monument, including a 9 mile route to the Lava Cast Forest. This is a section of lava flow that 7,000 years ago enveloped a grove of ponderosa pines, forming moulds of the trees; the wood has long since decayed leaving circular holes, some at the center of small mounds formed by lava building up around the base. The cast forest may be toured by a one mile trail, and is little visited compared with the two developed areas. Other backcountry access is provided by FR 9710 (Paulina Lake Road), which runs all along the east edge of the monument, passing lava deposits and cinder cones.
Lava flows, lava caves, cinder cones and other volcanic features, produced by Newberry Volcano; its caldera is now partly flooded, forming Paulina Lake and East Lake. Besides the fascinating geology, the preserve is also popular for camping, boating and fishing
Nearest cities with hotels:
Bend , 10 miles (from Lava Butte)
La Pine , 19 miles (from Paulina Lake)
43.721, -121.258 (Paulina Lake)
43.917, -121.356 (Lava Butte)
Open all year though affected by snow during winter and spring
Newberry Volcanic – Locations
Paulina Lake
The main section of the national monument, centered on the flooded caldera of Newberry Volcano
Lava Butte and Lava River Cave
Easily-accessed volcanic features alongside US 97; lava flows, volcanies and caves
Newberry Volcanic – Photography
19 views of Paulina Lake/Newberry Volcano

360 degree panorama of the Big Obsidian Flow
Lava Butte
Paulina Lake
Paulina Creek Falls
Big Obsidian Flow
Similar places
Crater Lake National Park (77 miles) – spectacular flooded caldera, part of the Cascade Range
Nearby places
Lassen Volcanic National Park , California – varied volcanic landscapes at the south end of the Cascade Range
Sunset Crater Volcano National Monument , Ariziona – cinder cones and lava flows near Flagstaff
All National Monuments in Oregon
Newberry Volcanic is part of the Southwest Oregon itinerary
Back to Top
Arizona |
California |
Colorado |
Idaho |
Nevada |
New Mexico |
Oregon |
Texas |
Utah |
Wyoming |
Slot Canyons |
Travelogue |
SOUTHWEST

All Contents © Copyright The American Southwest | Comments and Questions | Contribute | Site Map